Asian Ergonomics Design Laboratory (AEDLAB) is committed to using ergonomics and human factors to explore in the field of design.We focus on physical and cognitive ergonomics including anthropometry, 3D digital human modeling, CAD/CAM/CAE, statistical modeling, usability testing, human computer interaction, human robot interaction, artificial intelligence in design, safety and healthcare. Our project SizeChina has created the first-ever digital database of Chinese head and face shapes and design tools used by manufacturers and designers internationally.
SLECTED PROJECTS
Development of parametric biomechanical head models for product design and evaluation (2021). Funded by General Research Fund 2021/2022 (RGC GRF), HKSAR.
Smart Health Care System for Hong Kong Elderly (2021). Funded by School Collaborative Research Fund, SD PolyU.
AI enhanced 3D head scanning technology and related products development (2020) Funded by Laboratory for Artificial Intelligence in Design, HKSAR.
Three-dimensional face sizing template of Chinese children for face-related products. Funded by General Research Fund 2019/2020 (RGC GRF), HKSAR.
Sizing and comfort study for ear-related product design. Funded by General Research Fund 2016/2017 (RGC GRF), HKSAR.
3D human head and face model with soft tissue deformation. Funded by Early Career Scheme for 2015 / 2016 (RGC ECS), HKSAR.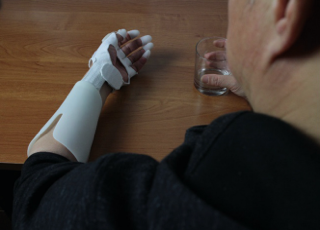 Hand Rehabilitation Product
An Ergonomic Solution for Hand Rehabilitation Product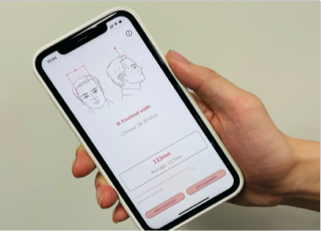 Accurate facial dimensions extracted from the Size China database can be accessed from this app, which helps students and frofessionals alike in designing.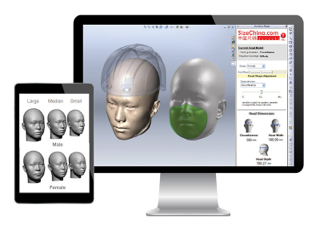 Design tool allows designers to select templates of suitable head and face dimensions, face shapes and genders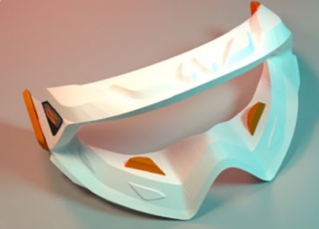 Goggle designed by Scan and Print
Use scanning and 3d printing technology to design more fitting goggles.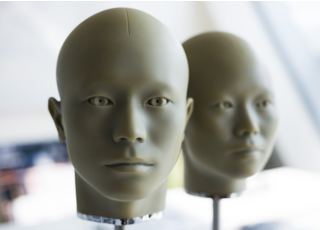 Physical Reference Models
The average head physical model can provide a reference for designers.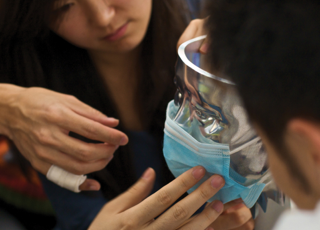 This example represents astatistically average small-size female Chinese face.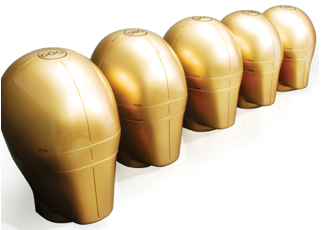 The set of ten gold Headforms describe the complete range of Chinese adult.
Understanding human size and shape is the cornerstone for designing successful consumer products because every product relies on accurate fitting. Designers, engineers and architects need sophisticated digital data on head and face shapes to design the next generation of best-selling products. How well a product fits us is the most important part of any successful design. The AEDLAB has created the first-ever digital database of Asian head and face shapes for use by manufacturers and designers internationally. We work on consultancy projects for industries that want to create the perfect fitting and products for the explosive Asian markets. The lab encourages visitors to come by to visit its facilities and discuss their requirements.
COOPERATIVE ENTERORISE
Cirque du Soleil,King's flair, Luxottica, Microsoft, NeuroSky, POC Sweden AB, Sunhing Trek, Bicycle

SizeChina created the first-ever 3D digital database of Chinese head and face shapes. Consumer products such as sunglasses, motorcycles helmets and surgical face masks are designed using data from Western sources, which fails to satisfy the criteria for good fit for Asian users. SizeChina meets the design need for accurate data, offering a series of practical, scientifically accurate design tools designed for easy use by entrepreneurs developing the first generation of true Asian fit products. SizeChina design tools include physical headforms and faceforms, plus a 3D digital archive of over 1700 individual scans. These tools offer applications in optical, medical, sports, and the entertainment industries.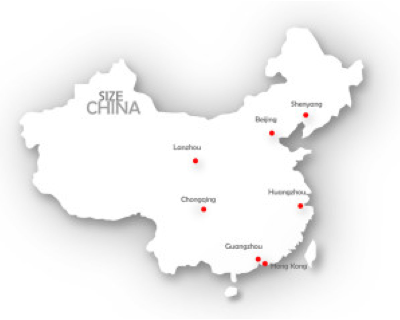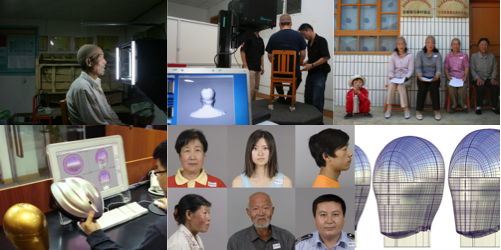 Email:yan.luximon@polyu.edu.hk
Location:The V711-V712, 7/F, JCIT Hong Kong Polytechnic University